As a truly prominent IT service provider,

we understand our clients needs
JayamSoft Global Service LLP is an innovative and quality driven IT services provider that believes in creating nothing less than delighted clients. We work with you not as a vendor but as your technology partner. We understand that our success depends on yours and we leave no stone unturned to deliver projects on time and within budget. We are committed towards delivering software applications and solutions of high quality.
We provide myriad services like website design and development, SEO services, e-commerce solutions, mobile applications development and custom software development. We offer scalable and robust solutions to allow any future re-development. We work towards exceeding client satisfaction by following transparent work practices and a client-centric work model that puts your needs at the center.
OUR VISION - To become a dynamic IT consulting partner with a focus on maximizing revenue for clients through top quality project / services delivery and cutting edge software technologies.
OUR MISSION - To be an organization that delivers projects to clients' specifications and satisfactions by working on the latest IT and software technologies in a work environment that nurtures the best IT talent and provides employees ample opportunities for personal and professional growth while delivering on all stakeholder expectations.
Why Choose Us!
Through the collaboration with clients in discussing needs and demand, we're able to attain mutual understanding, gain customer trust to offer appropriate advice, and bring about suggestions on suitable technology to transform your business.
Trust and transparency are essential building blocks of every business partnership. Due to this, our teams are highly responsive in communication and provide proven methods of staying in touch that facilitate remote delivery - both when it comes to tools and processes.
The team at JayamSoft has delivered Web and Mobile application development services to the companies over more than 7+ years on the market. This includes creating amazing user experiences, smooth delivery, testing, and support and maintenance of the app. All our app developers have extensive experience developing apps for both mobile and web.
We apply the knowledge gathered from dozens of successfully completed IT projects to truly understand the business requirements underlying each new web or mobile app design project. Startups companies and large enterprises are different in approach, and we tailor a solution to meet the specific requirements of each specific circumstance.
Resources
Get a copy of our
Company Profile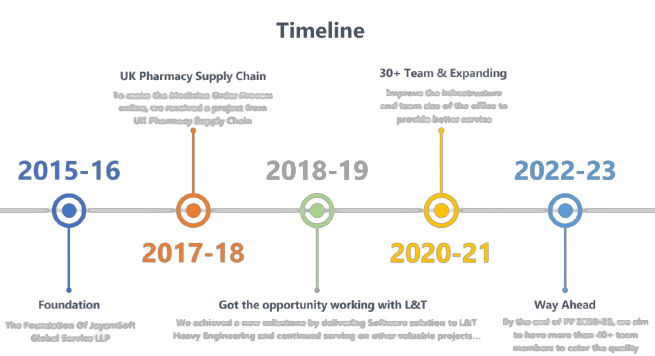 Testimonials
Why do people praise about
JayamSoft

?
Key To Success!
Requirement understanding and a good communication is the key to succeed the project, which has been demonstrated well by the JayamSoft in our back office management system.
Focused Team On What They Do!
Extremely focused and Brilliant team! Great communication and crystal clear understanding of requirement.
Strong Requirement Understanding
Very strong in requirement understanding, beyond the expectations for execution in time and finally the Quality is Excellent. It was the smoothest implementation process I have ever been through.
Professional And Friendly Team
Very professional and friendly, JayamSoft committed to the task given and flexible on requirements. Very happy with build received.
Obtaining further information by
make a contact

with our experienced IT Experts.

We advise not only on the choice of the right technology but also on business issues and strategy related to the development of a new product. Let's arrange a short phone or video call, listen to your needs, and try to advise the best solutions.